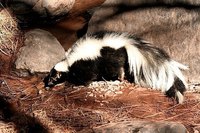 This article will tell the reader how to get rid of underarm odor without using deodorants or antiperspirants.
Underarm odor is a problem for everyone at one point or another during their lives. Just about everyone uses deodorants and / or antiperspirants to combat the problem. But safety concerns about several of the ingredients in many of these products have led some people to search for a more natural solution to this odorous problem. Before I show you how to get rid of underarm odor naturally I want to give you a little background into why underarm odor occurs.
The main reason most of us develop underarm odor is because of various bacteria that find a welcoming home under our arms. These moisture loving bacteria find a near perfect breeding ground under our arms where it is warm, dark, and moisture has problems evaporating easily. Odor is produced when these bacteria consume organic materials found on your skin, clothing, hair, and in your sweat. These bacteria also are fond of other damp and dark areas of the body such as the pubic and foot regions. Some other reasons for underarm odor include medicines, foods, or illness. The methods I will share with you today probably will not be much help if your underarm odor is caused by these other reasons but if its caused by bacteria you may find relief with these techniques.
The best technique I have discovered for getting rid of underarm order without using chemical deodorants or antiperspirants is lemon juice. Fresh lemon juice works best but a product such as Real Lemon from the supermarket will work wonders to. In some people lemon juice may irritate the skin so I suggest you try with one arm first to see if it causes you irritation. To get the best effect from using lemon juice to get rid of underarm odor follow these simple directions: Take a good bath washing your armpits carefully. After getting out of the shower dry your underarms thoroughly. Then take your lemon juice and pour on a paper towel and rub your underarm area gently. The citric acid in lemon juice kills the bacteria that are fond of your underarms and unlike with antibacterial products bacteria do not seem to develop a resistance to citric acid. Others have found relief by using vinegar, or mouthwash the very same way but I was never able to duplicate those results personally.
The second tip I know of that will help you get rid of underarm odor without using chemical deodorants or antiperspirants is a really simple one. Shave your armpits. When you shave your armpits you remove hair that bacteria stick to even after taking a shower. Less bacteria means less odor a safe and natural way.
There are several products and programs advertised on the internet that claim to help you get rid of underarm odor but I have no experience with them and cannot recommend or condemn them. After using the two above techniques I have not needed to pursue further help in resolving the problem. Many people may choose to use a deodorant even with this natural regimen of personal care and that OK. Just try and find a all natural deodorant where you can pronounce all the ingredients listed on the container.