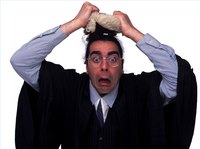 How to Conceal Hair Loss. Both men and women can be subject to hair loss. Although you can't do much to prevent it, you can take steps to hide it.
Things You'll Need
Hair Accessories
Scarves
Sporty Hats
Sun Hats
Hairstyling Software
Consult with a physician or dermatologist before considering any method to conceal hair loss.
Think about wearing a hat or bandana, when appropriate, or even a toupee or hairpiece. You can get a hairpiece made to fit your remaining hair or bald head and wear it even during swimming and other athletic activities. However, in addition to the initial cost of the hairpiece, you often have to pay for a plan, which involves payments for maintaining hairpieces over the years.
Conceal thinning hair with hair weaves or extensions, available for people of all ethnicities. See your hairstylist for more information.
Try one of the medications that help to regrow hair. The two most popular'albeit expensive'products are minoxidil topical (Rogaine) and finasteride (*). Results vary widely for Rogaine, which you apply to the scalp, and *, which is an oral prescription medication.
Consider hair transplants. This surgical procedure takes healthy hair from one part of your head and transplants it to a bald area. Keep in mind that a licensed dermatologist experienced in this area must perform the procedure.
Investigate other forms of surgery, such as scalp reduction, which involves removing the bald part of your scalp and pulling the remaining portions together, and flap surgery, which involves pulling a receding hairline forward.