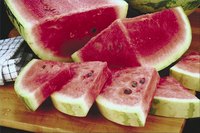 How to Choose Low Fat Fruits. Fruit is good for you, as everyone knows, but there are some fruits that are lower in fat than others. When you're watching your fat intake, knowing which fruits to reach for to curb those hunger pains can help you achieve your goals.
Choose fruits that have a high water content, like watermelon or cantaloupe. The high water content will help fill you up, while the natural sweetness of the fruit helps you avoid reaching for candy.
Go for fresh fruits over dried fruits, as fresh fruits are typically lower in fat and calories.
Try unusual fruits like dates and cranberries. While they may not be the first fruits that come to mind, they're low in fat, low in calories and add variety to your standard fruit selections.
Opt for fruits with stronger flavors like pineapple to give you a burst of flavor along with the health benefits of eating a low fat fruit snack.
Combine your low fat fruits with other low fat ingredients, like plain yogurt or fat free cream cheese, for a new taste.