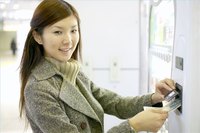 How to Buy Product for Vending Machines. After you purchase your vending machines, and before you place them into businesses, you need to purchase the products to stock. Although it is important to keep your product costs down, it is also important to stock your machines with high quality products that have brand recognition to ensure you make enough profit.
Check your machines carefully so you know the size of the product that you need to purchase. If you are doing bulk vending, you need to buy gum balls, nuts and other loose, unpackaged vendible products. If you have soda machines, determine if your machines vend cans or bottles. With multi-product snack machines, you need individually packaged snacks. Your snack machine probably has some small coils for candy bars and some larger coils for cookies, chips, pastry and similar product.
Consider the types of locations for your machines and the population that you anticipate as your customers. For example, if you are vending in a gym or nautilus room, you may want to purchase healthy snacks and beverages, whereas if you are vending in an automotive repair business to primarily young men, you may want to stock your machine with more traditional junk food fare.
Ask the potential account what types of snacks and drinks they are interested in having available in the machine, if you have already located the account and are buying the product with them in mind.
Look locally for your product if your business is small and the volume of product you move is not great. Check out any local wholesale clubs that exist in your area, such as BJs and Sam's Club. They typically have reasonable, competitive prices for a variety of vending products.
Try restaurant suppliers who also carry pre-packaged items suitable for vending machines. Suppliers usually have a minimum purchase requirement, though, so you may have to wait until your vending business grown in size before using a supplier. Also, their prices are actually sometimes higher than buying from a local walk in wholesale club.