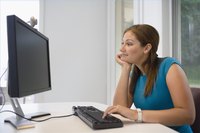 How to Start an Internet Consulting Business. The Internet creates innumerable opportunities for people with an entrepreneurial spirit. If you have a specialized skill set or expertise in a particular area of business, you can expand your potential client base and increase your potential exponentially when you start an Internet consulting business.
Define what it is you do. There are Internet consulting businesses that specialize in everything from accounting to information technology to marketing. Recognizing your skills, expertise, knowledge and abilities is integral when you start an Internet consulting business.
Explore the online marketplace. In most cases, if you specialize in a consulting area that could make money offline, you should have little trouble finding a market on the Internet. However, some Internet consulting markets are extremely saturated and severely competitive. In these cases, you might consider a different area of Internet consulting.
Investigate local, state and national laws regarding businesses and obtain any licenses or permits required to operate your Internet consulting business.
Prepare a business plan. To start an Internet consulting business that has the potential for success, you need to be able to identify basic business concepts, such as your income and expenses, marketing costs, overhead and material costs. In addition, you need to be able to determine how long it will be before your Internet consulting business is solvent and turning a profit.
Seek the help and advice of resources in your area. A local Chamber of Commerce or Small Business Association may be able to help you as you start your business. You may be able to apply for a small business startup loan to help you get off the ground. Just because you operate your business on the Internet doesn't mean that these resources aren't available to you.