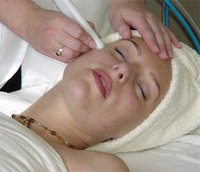 Chickenpox is a disease that affects people of all ages and backgrounds. Even though the disease is treatable, it can leave unsightly scars. Read on for tips on how to get rid of chickenpox scars.
Things You'll Need
A consultation with a dermatologist
Vitamin-E based products
Talk to a dermatologist. Have your skin and scars evaluated by a professional before you try any products or home remedies. A dermatologist will have many different options for you to consider.
Apply sandalwood oil and Vitamin-E onto your skin. If you scars are not as deep or old, you can rub some sandalwood oil Vitamin-E based products onto your scars. Do this consistently for a few months until the scars have healed.
Try laser treatment. If the scars are old or very deep, creams and lotions will most likely not work. You might have to consider removing these types of scars with an intense laser treatment at your dermatologist's office.
Consider excision by your dermatologist or doctor. Excision is the removal of scars by cutting them off and stitching the skin closed. This option is especially suitable for deep scarring. You will still have some scarring, but it will be much less noticeable than the chickenpox scars.
Get a Microdermabrasion treatment. Microdermabrasion is a deep facial peel that removes a very fine layer of skin. This process will remove scars from on the surface of your skin. Get this process done at a clinic or certified spa for best results.