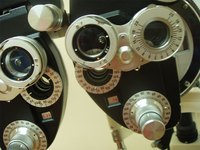 A corneal ulcer can form on the eye when the clear coating, or cornea, has been rubbed or irritated, causing a small tear or cut. They can be extremely painful and get infected very easily, leading to vision loss. If you think you might have a corneal ulcer, get it checked out by an ophthalmologist immediately.
Things You'll Need
An ophthalmologist
Cycloplegic Eye Drops
A cool compress
Ibuprofen
Corneal Ulcers can be caused by a tear or an abrasion in the cornea, or clear coating over the eye. If the cut or tear gets infected, it can create a Corneal Ulcer. Corneal Ulcers are very painful and can cause the eye to tear, swell and become red. If an ulcer on the cornea goes untreated, it can cause further infection, leading to vision loss or blindness. If you are experiencing eye pain, go to an ophthalmologist as soon as possible and check to see if you have a Corneal Ulcer.
The doctor will instruct you to take out your contact lenses, if you wear them. Very often, Corneal Ulcers affect contact lens wearers because of debris that can get stuck under the contact lens, or because the contact lens will stick to the cornea if worn for extended periods of time. Next, the doctor will provide a series of tests, including staining the cornea to check for any tears or holes.
After diagnosing a Corneal Ulcer, the ophthalmologist will most likely prescribe Cycloplegic Eye Drops to prevent infection and promote healing. Because infection is serious and can spread quickly, the drops may be prescribed to be taken frequently for the first few days, sometimes as often as every 15 minutes. You are not advised to wear contact lenses until after the Corneal Ulcer heals.
Frequent trips to the ophthalmologist will be required for tests, making sure the ulcer has not spread bacteria or become infected. The doctor may prescribe more medication if the bacteria has spread.
A cold compress and Ibuprofen can be used to prevent eye pain, but are not substitutes for going to the ophthalmologist. Corneal Ulcers are considered to be medical emergencies among eye doctors and should be treated immediately to prevent blindness and vision loss.