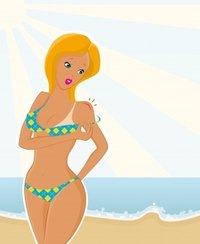 An ounce of prevention is worth a pound of sunburn treatment. Most of the time you can prevent sunburn, but just in case of a mistake, you can whip up a sunburn treatment at home. A homemade sunburn treatment is great for your skin and costs pennies to make. the fresh treatment is something a drugstore cannot supply.Try these simple steps to make your own sunburn treatment for instant comfort and skin repair.
Things You'll Need
5 black tea bags
3 cups fresh mint leaves
Boil the water. Use a 2 qt. pan to heat the water. Bring to a boil, remove from stove, and set aside.
Prepare the mint and tea bags. Cut the strings and paper handle on the tea bags. Add the fresh mint leaves and tea bags to a separate pan.
Combine ingredients. Pour the boiling water over the teabags and mint leaves. Cover with a lid and set aside for an hour.
Strain and chill the sunburn treatment. Strain the teabags and mint leaves. Pour the sunburn treatment into a two qt. pitcher and refrigerate.
Apply the sunburn treatment. Wait several hours for the homemade sunburn treatment to fully chill. Apply the treatment with cotton pads or pour directly over the sunburn. If you are going to pour the treatment on the sunburn, do so outside or in a bathtub to catch the drips. The mint will immediately cool the sunburn, and the black tea will draw out the heat, restoring the skin's acid balance.