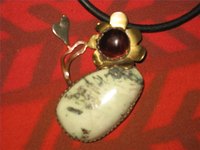 You are so sick of those boring crystals or cheesy antique baubles you see all over the place. In fact, most of the pendants you see make you yawn. Rather than swear off jewelry forever, you can design your pendant to express your personality. Your personal pendant can be of any shape, size or design. It can also become your signature piece, worn with everything from a frilly smock to a simple T-shirt. You can design your pendant with a few simple steps.
Things You'll Need
Determine the size. Some gals love giant baubles around their necks, while others prefer the demure. Practice holding coins up to your neck area where you would like the pendant to hang to figure out what size will work best for you. Draw a very light outline of the size coin you chose to give you the size you get to work with.
Brainstorm for an image. You may already have a vision in your head of a blazing red ruby surrounded by small emerald leaves, or a skull encrusted with diamonds. If not, think of some things that make you smile--maybe a dog paw or flowers. Or simply start doodling on the page until you come up with a design that suits your fancy. Keep in mind that the more details you'll want, the bigger the pendant should be. Smaller pendants should be kept simple.
Figure out the gemstones, adornments or colors you want. If you are in love with bright stones, design something that showcases several of them clustered in a bright gold backing. If you want a subtler pendant, go with a lighter stone in a silver setting. Keep in mind that you can substitute rhinestones for diamonds or make other adjustments so that your pendant won't cost $1 million.
Find a custom jeweler. Visit area jewelry stores with your design in hand to price how much it would cost to create such an item. Ask for ways to make it less expensive if they quote you some ridiculous fee. If you cannot find a local jeweler, you can always search for one online or make your own pendant (see Resources below). Visit a craft supply store's jewelry section for backings and other jewelry-making material.