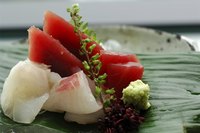 A pescatarian is a person who refrains from eating land animals and birds, but includes fish, mollusks, and crustaceans in addition to fruits, vegetables, plants, legumes, nuts, and grains. This is a common form of "vegetarianism" and is generally considered a very healthy diet. It can also be a stepping stone to full vegetarianism. Pescatarians can enjoy lowfat protein sources that are high in fish oils, which contain Omega 3 fatty acids—the "good fats" that reduce inflammation. Follow these steps to become a pescatarian,
Make a list of your favorite seafood meals. You'll be surprised at how many there are.
Peruse recipes in magazines and cookbooks to find new recipes you might want to try. Don't think you have to jump straight to sushi—the tuna casserole your mom used to make is a pescatarian recipe!
Slowly start replacing meat and poultry with vegetarian or pescatarian recipes. A hamburger, for example, can be replaced with a grilled tuna steak. Enjoy fish tacos instead of ground beef. You can get seafood at just about any restaurant these days.
Completely phase out meat and poultry from your diet. Eat fish and seafood twice a week, and go "vegetarian" the rest of the days. Congratulations—you're now a pescatarian!