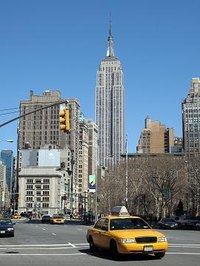 To truly make the most of a visit to New York City, you need at least four or five days. Not only is the city big, but the number of attractions is huge, making it basically impossible to see even the highlights on one day. If that's all you have, however, don't despair. With some planning, you can still enjoy the Big Apple in all its glory.
Skip the museums and spend the day outside. Even the smallest museum will take you at least a couple of hours to see. If you only have one day, you can't afford that luxury. If you have your heart set on seeing at least one museum, visit the Museum of Natural History and head directly to the dinosaur exhibit, the highlight of the complex.
Head to Central Park. At over 1.32 square miles (3.4 square km), you probably won't be able to see it all in one day. Still, you can choose some of the highlights: the ice-skating rinks, Belvedere Castle or the Jacqueline Kennedy Onassis Reservoir. Try to combine a walk in the park with some nearby attractions, so you can move from one place to the next while enjoying Central Park in the process.
Think twice about visiting the Statue of Liberty. It's a 20-minute ride on a crowded ferry to reach the island, plus at least an extra hour waiting in line to access the statue itself. The number is much bigger if you're coming on a weekend. If you can't afford the waiting time, visit the Museum of the City of New York (on 103rd St.), which offers a great introduction to the city's history, architecture and style.
Take the ferry to Staten Island, preferably at night. The ride, which is actually part of the public transportation system, takes about 40 minutes each way and is free. No paid tour offers better views of Lower Manhattan in all its glory. You also ride past the Statue of Liberty and Ellis Island.
Walk down Fifth Avenue. Unless you have money to spare, avoid going into the shops themselves. Instead, window shop down the street and past Tiffany's, Saks, Bergdorf Goodman and FAO Schwarz. You'll also find some very famous buildings along the way, including Rockefeller Center and the New York Public Library.
Visit Wall Street. Guided tours of the New York Stock Exchange take about an hour (some longer), but you can skip the indoor view if you're pressed for time and instead take a look at the famous 7,000-lb. bull on Wall Street and Washington's statue. From there, it's just a few steps to the Staten Island and the Statue of Liberty ferries.