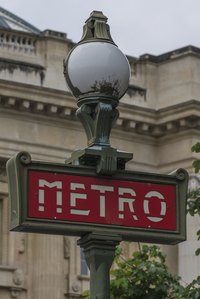 An extensive Paris Metro system makes it easy and fast to get around this large city. An RATP (Regional Autonomy Transit Parisian) schematic map shows 14 lines arranged in five zones identified by numbers and colors. Visitors can select the appropriate ticket type depending on length of stay, journeys planned beyond the city's center and whether airport transfers are required.
Locating a Metro Station
Signage at the street entrances to 300 Paris Metro stations is not uniform in design. Older signs spell out "Métropolitain" in stylistic art deco lettering, others have white block letters on a red background, and still others have a large neon yellow "M" in a circle design. In locations where the metro makes underground connections, an overhead white sign with the blue "M" logo in a circle indicates which of the metro line platforms may be accessed by following that sign.
Purchasing Metro Tickets
A single use ticket for zone 1, called a T+ ("tay"), is the least economical and most time-consuming option. Purchasing tickets in groups of 10, called a carnet ("kar-nay"), gives a discount of approximately 20 percent. Children ages 4 to 9 receive a 50-percent discount; those age 3 and under travel free. Tickets are available from automated multilingual machines in stations, which accept smart chip credit cards or euros. When four or more journeys are made on the same day, Ticket Mobilis is cheapest, valid for unlimited use within Central Paris zones 1 and 2. Optional extended validity into zones 3, 4 and 5 may be purchased, although airport transfers to Charles de Gaulle and Orly are not covered by any metro ticket type.
Multi-Day Tickets and Airport Transfers
Carte Paris Visite is available in a 1-day, 2-day, 3-day or 5-day validity for a choice of zones. For a city transfer from Charles de Gaulle Airport, buy zones 1-5, which includes the RER (Regional Express Network) commuter train, also valid for Versailles and Disneyland Paris. This multi-day ticket can be purchased at the airport or any station machine or ticket window using a smart chip credit card or euros. A few discounts for attractions, sightseeing and shopping are bundled into the card. Another option, Pass Navigo Découverte, is a 7-day ticket only valid from a fixed Monday through Sunday, therefore not worthwhile for visitors arriving midweek.
Maps and Connections
Subways navigate the system bearing the name of their last stop to indicate direction of travel. For example, Line 4 runs between Porte de Clignancourt on the Right Bank to Porte d'Orléans on the Left Bank, making 27 stops. Pinpoint your destination to check directional routing from where you are to where you want to exit and follow signage accordingly. A route map appears at the entrance to each platform, wait time for the next train is indicated and a line map is displayed in each carriage, making it easy to double check your direction. At larger stations, you can make connections called "correspondances" between metro lines by following signs. All exits are marked "sortie." Some exit gates open automatically and others need to be gently pushed where indicated. At street level, many metro station exits have a handy city map of the surrounding neighborhood. Manned information desks with free maps are found at larger stations, including Gare du Nord for Eurostar trains, and free apps in English from RATP can be downloaded for iOS or Android smart phones.