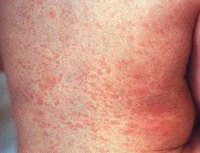 The MMR vaccine is a mixture of three live viruses, administered by injection for immunization against measles, mumps and rubella. It is usually given to children under the age of 2 during their routine shot vaccinations. Sometimes a child gets a rash that looks like the measles once the shot has been given. No need to panic, it is not measles, it is just a reaction from the live virus. Here is exactly what you need to do to move it along.
Things You'll Need
Give the recommended dosage of Ibuprofen before you do anything else. This will bring the fever down that is usually associated before or after the rash is present. Repeat dosage after 8 hours.
Soak a washcloth in ice cold water and pat the parts of the body where the rash has covered. More than likely it will be on the face, arms and stomach area. Do not rub the washcloth on the rash, this will only irritate the condition more.
Drink lots and lots of fluids. Water of course it the best thing to drink, however other fluids such as tea, and juice will do just fine. Keep a drink next to the bed at night so they can keep hydrated through the night as well.
Rest, rest and even more rest ! The more you rest, the better you will feel and the less you will concentrate on the rash.