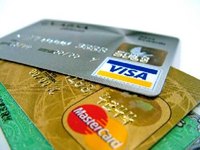 Your credit score can tank in a matter of months. While it is very easy for your credit score to go down, rebuilding credit can take years of hard work. You have to prove that you can handle credit responsibly and pay on time. Follow these steps to learn how to rebuild your credit.
Things You'll Need
Money to pay your bills on time
The willpower not to overspend
First, get new credit. Although it may be hard to get approved by the major financial institutions, you may have luck with department stores, gas stations and secured credit cards. Make certain to only apply for a few different cards, rather than trying your luck with every company. Too many applications will place inquiries on your credit report, thus making you even more unattractive to potential debtors.
Change your spending habits. Start with only one or two credit cards and keep it that way. Charge immediately to begin building your credit, but only charge what you can afford to pay. Carrying a balance is acceptable as long as you are paying more than the minimum payment and your balance remains at a reasonable level.
Keep only a small amount of credit and use that small amount to build your credit. Maxing out your cards can make you a bad credit risk and get you into financial trouble, because you most likely cannot afford to completely pay off a maxed-out credit card. Try to stay at or below about 30 percent of your credit limit at all times.
Make all payments to creditors as soon as you get a bill. While creditors may not report years of on-time payments, they certainly will report one or two missed or even late payments. Paying the bill immediately ensures that it will be on time, and will most likely save you a little interest if you choose to carry a balance.
Finally, obtain a copy of your credit report at least once per quarter. Get a copy from each of the three major credit bureaus (see Additional Resources). Make certain that everything on it is correct; if not, dispute any inaccuracies. Check inquiries and keep them at a minimum.