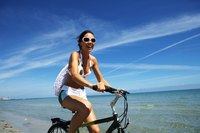 The wind and the waves might be good for the soul, but they can make a serious mess of your tresses. Control that frizzy, wavy and tangled beach hair with a smart pre- and post-beach haircare routine. Beach-friendly styles can tame the tangles and leave you looking chic on your next vacation.
Protect Your Tresses
Sun damage doesn't just affect your skin -- it can also negatively impact your hair. UVA and UVB rays can damage your hair's cuticle, the outside of each strand, according to the Cleveland Clinic.
Keep your hair safe from the sun with these protective measures:
Condition it: Apply a leave-in conditioner with a built-in sunscreen.
Time it right: Avoid going to the beach during the sun's peak hours. Instead, go in the morning or late afternoon when the sun's rays are less powerful.
Cover it up: Keep your hair under cover by wearing a sunhat or baseball cap if you do hit the sand when the sun is bright.
Use Beach-Friendly Products
Several hair care products can help fight the frizz and tangles that often appear when your hair meets the humid, windy and salty air.
Work an oil-based leave-in conditioner into your tresses before hitting the beach. The oil in the product counteracts the moisture in the humid beach air.
Moisturize your locks with a deep conditioner every time you wash. These products will coat your hair shaft, making them less likely to swell and frizz when humid beach air strikes.
Smooth your hair's cuticle, which is susceptible to flyaways and frizz triggered by beach moisture, with a silicone-based serum. Run this serum over dry locks before hitting the sand.
Style It Right
The windblown look can get downright messy at the beach. If you have long hair that falls several inches past your shoulder, a loose side braid is a relaxed look that keeps your tresses under control and out of your face when the wind blows.
Stop your hair from whipping in the wind by pulling it into a high bun. Use smoothing cream to keep the flyaways at bay for a sleek and chic beach-friendly look.
A colorful headband can complement your swimsuit and keep your bangs out of your face. Wear this accessory with your short hair down, or let it accent your bun or ponytail.
Restore Your Locks
The heat, humidity and wind at the beach can strip your tresses of much-needed moisture. Restorative moisturizing treatments, are an important part of post-beach hair care. Look for a moisturizing mask, using such ingredients as Moroccan oil, to deeply hydrate the hair shaft.
A weekly hot-oil treatment is lightweight enough that it won't weigh your hair down, and it offers significant benefits for moisturize-zapped hair. In addition to hydrating, these treatments can help reduce frizz for your next beach trip.
Because the sun's rays can alter the color molecules of your hair strand, you need to repair your chemically colored hair after a beach trip. Pick up a color-correcting shampoo and conditioner, which can ease any brassy tones created by the sun until your next appointment with your colorist.