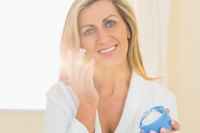 Aloe is a natural wrinkle fighter that comes from the aloe vera plant, a plant that has been used topically for hundreds of years to treat burns, heal wounds and smooth aging skin. According to the Indian Journal of Dermatology, aloe vera contains roughly 75 potentially active components that work together to give you a healthy, youthful glow.
Anti-Aging Benefits
Aloe offers skin-soothing moisture, along with powerful anti-aging components such as vitamins A, C and E, which are antioxidants. It also contains glucomannan, a type of sugar, and gibberellin, which is a natural growth hormone. The active components in aloe help boost collagen production, soften skin and increase the skin's formation of elastin fibers, which helps give skin a more taut appearance with fewer wrinkles.
Using Aloe Vera on Your Face
Whether you choose to squeeze the gel directly from the plant or buy skincare products with aloe vera as one of the main ingredients, applying aloe to the face can help improve skin tone. Alhough it's typically safe for use on sensitive skin such as the skin around the eyes, in some people it can cause an allergic reaction such as stinging, burning or redness. Apply it in a small, inconspicuous area approximately 24 hours before attempting to use it on your face to make sure you won't have an allergic reaction.