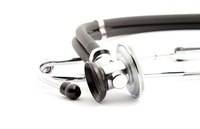 The tuberculosis or TB skin test, also known as a PPD test, is used to determine if someone has developed an immune response to the bacterium that causes TB. A response to the test can occur if someone has TB or if the person was exposed to it in the past.
Schedule an appointment with your doctor to have a TB test done. People working in health care, criminal justice systems and a variety of other occupations may be required to have a TB test as part of employee enrollment. The testing fluid, also called purified protein derivitive or PPD, is injected under the surface of the skin on the inside of the forearm. The area where the injection was made will swell up slightly right after the procedure. This will be absorbed quickly into the skin.
Wait for two to three days, then return to the doctor to have your test read, when the size of the induration (hardness at the site of injection) is at its largest stage. The health provider will look at the area of the PPD injection to see whether any localized swelling has occurred. In addition, the diameter of the induration will be measured and recorded in millimeters.
For healthy people, a TB test reading in which the swelling is greater than or equal to 15 mm is considered positive. The test will also count as positive if blisters are present. The measurements for a positive test drop for certain people. For example, in diabetics and people with kidney disease, a TB test reading of only 10 mm of induration is considered TB positive. Five mm is considered a positive skin test result for patients who are immunocompromised. Induration of less than 2 mm, without blistering, is considered a negative skin test. Redness is not measured or considered a factor in a TB test reading.
Discuss the results with your doctor. Having a positive TB test reading does not necessarily mean that you have TB. It could mean you have just been exposed to it and your body has built up antibodies. If your doctor recommends a course of treatment, make sure to finish the entire medication regimen.