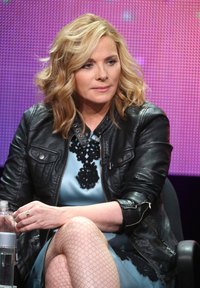 Sultry, funny and adventurous, the character of Samantha Jones stole the show on "Sex and the City." Samantha's looks ranged from elegant to outrageous -- often in the course of a single episode -- and were created by costume designer Patricia Field. Steal the style of New York's most outrageous lady by adding an element of the unexpected to classic ensembles. And don't be afraid to undo a few buttons -- Samantha loved to flash a little skin.
Day Wear
During the day, Samantha Jones dresses the part of a high-powered New York PR woman who darts from meetings to drinks with the girls. Look like Samantha by wearing tailored suits in bright colors like yellow, red and blue. Samantha's suits always have a hint of drama, like oversize buttons or big shoulder pads, so choose something with an extra striking detail. Pair the suit with a plunging camisole -- or nothing at all -- to reveal a little cleavage.
Hitting the Town
When Samantha hits up New York's hottest parties and clubs, her style gets wild. Rock a Samantha look by wearing a strapless sequined dress, inspired by the classic episode "Anchors Away." Going bar crawling? Fashion a vintage rock band T-shirt into a plunging halter top, and wear it with a pair of skintight jeans. Samantha also loves metallic accents, whether it's a pair of flashy gold boots or a blouse with spiky epaulets, so go for anything that dazzles.
Hair and Makeup
Samantha typically wears her bouncy blonde hair in a smart, shoulder-length bob with wispy bangs and flipped-out ends. For nights on the town, add a little curl or pull your hair into a loose updo. Do your makeup according to the occasion; when dressed to the nines, Samantha goes with smoky eyeshadow and mascara, adding a touch of drama with red or dark berry-colored lipstick. During the day, opt for a subtle nude shade.
Bold Accessories
Like any stylista, Samantha Jones loves "flashy statement jewelry and statement handbags," according to E Online. Complete a Samantha-inspired outfit with a large, bold purse in a bright eye-catching color, or carry a sleek clutch. Earrings are another must, and the bigger, the better -- Samantha regularly wears sparkly pairs that reach down to her shoulders. Top things off with a gold bracelet or a flashy necklace that begs to be noticed, and of course, always wear heels.