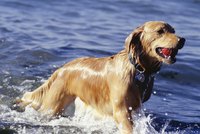 During flea and tick season, you want to protect your dog from these blood-consuming parasites. Applying Frontline -- either topically or in the spray version -- can do the trick. Weigh your dog before your Frontline purchase, so you know the right size to buy. While Frontline products are available over the counter, ask your vet whether it's the right product for your dog.
How Frontline Works
Frontline's active ingredients, fipronil and S-methoprene, not only kill fleas and ticks, but also eliminate lice and sarcoptic mange mites. The chemicals collect in the dog's hair follicles and skin oils after application, continually releasing over a period of 30 days. The product doesn't enter the bloodstream, so it causes few side effects. Frontline begins killing fleas within 24 hours after application. Treat every dog in your house with the appropriate dosage. If you have cats, treat them with Frontline for felines.
Topical Frontline
Wear gloves when applying topical Frontline. After taking the applicator out of the package, remove the plastic tab. Peel or cut off the foil on the applicator. Open the applicator by holding it up with the foil facing you and snapping off the top. Apply Frontline by separating hair between your dog's shoulder blades -- an area he can't reach to lick. Put the tip above his skin, squeezing the applicator's entire contents in one spot. Don't apply Frontline to his hair. If your dog isn't cooperative, find someone to hold him during the procedure. Apply topical Frontline again in 30 days.
Frontline Spray
Wear gloves when applying Frontline spray. Before spraying, adjust the nozzle to the open position. While holding the bottle upright, tousle your pet's coat with your free hand and then spray his entire body until it is wet. Figure on using one to two pumps per pound to thoroughly cover your dog, with long-haired dogs requiring two pumps per pound. Spray Frontline onto your glove and gently rub his head and face, avoiding his mouth and eyes. When finished, remove your gloves and wash your hands. Wait 30 days before reapplying.
Precautions and Contraindications
While Frontline is safe for pregnant and nursing dogs, don't apply it to puppies younger than 8 weeks. If your dog is elderly or has a compromised immune system, consult your vet before using Frontline. Dogs receiving Frontline topically might develop irritation or hair loss at the application site. Call your vet if the irritation doesn't resolve within a few days of application or it worsens.