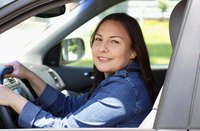 Haggling with a car dealer can save you money on the purchase price, but it also is worthwhile to spend some time negotiating your loan. A small change in your interest rate can save hundreds of dollars over the life of a loan. Having an excellent credit score is the surest path to a low rate, but shopping around for lenders can help ensure you get the best deal.
Credit Report Cleanup
Perhaps the single biggest factor in getting favorable loan terms is your credit score. The Fair Isaac Corporation notes that as of March 2015, a credit score of 720 to 850 earned an interest rate of about 3.236 percent on a 60-month loan. In contrast, the rate was 6.677 percent for those with scores of 660 to 689. A few points can make a big difference in your terms, so check your credit report for errors. If creditors reported delinquencies that shouldn't be there, for example, contact the credit reporting bureaus and the creditors and insist the errors be removed. Also, check your utilization rates – the amount of debt you have as compared to your available credit balance. If you have cards close to being maxed out, making a payment to lower that debt can have a positive effect on your score and your auto loan rate.
Don't Rely on the Dealership
Auto dealers are more than willing to arrange financing, but they probably won't give you the rate you could get elsewhere unless you have excellent credit. Arrange for financing elsewhere before you go car shopping. Credit unions and community banks tend to offer lower rates on car loans. If you apply for a loan with a bank and get pre-approved for financing before going to the car dealership, you have room to negotiate a lower rate with the dealer. If the dealer doesn't match the bank's terms, you can go with the bank loan. If the dealer matches or beats the bank loan terms, then you can finance your car with the dealer.
Term Limits
Lenders offer extended repayment periods for auto loans so you can spread your payments over six or seven years if your goal is to have the lowest monthly payments. For the best interest rate, however, you'll need to quicken your pace. Shorter loan periods tend to have lower rates.
The Best Deal
Even when the best rate available is the car dealer's promotional rate, that might not be your best financing deal. You may have a choice between low dealer financing and cash rebates. Anthony Giorgianni, associate finance editor of "Consumer Reports Money Adviser," reports that your best deal often is to take the cash rebate and a bank or credit union loan.