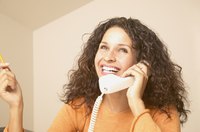 A close examination of your phone bill may reveal services you don't use and don't need. The small charges add up over the course of a year and can hit you hard in the pocketbook. Cut out the waste and seek cheaper alternatives from your existing phone service provider to reduce your monthly charges.
Cut Out the Extras
Your home phone plan probably includes features that you don't use and increase the size of your bill. Assess whether you need features like call waiting or caller ID. If you have an old answering machine, you can even lose the voice mail service. It may be only a few dollars a month for these features, but even a cost of $5 per month adds up to $60 per year.
Rethink Your Long Distance
A reliable high-speed internet connection makes it easy to replace your landline long distance service. Online services such as Skype, Google Chat and FaceTime are free to use and let you connect with friends and family globally. Skype, for example, allows you to call landlines for only a few cents per minute. That means even if your friends and family don't have Skype, you can still use it to call them. If any of these options are feasible, cancel the long distance plan on your home phone to cut out the cost.
If you want to stick with the long distance provided through your land line provider, pay attention to the details of your plan. You're likely charged more at certain times of day. To keep costs low, call long distance when the rates are lowest.
Seek Pay-Per-Use Options
Your phone provider probably sold you a flat-fee home phone service. Ask your provider if they offer pay-per-use options instead of a monthly plan. Verizon, for example, has a la carte plans that a result in a bill only when you use a service as of this publication date. With a pay-per-use plan, you won't receive a bill for a line that you never use.
Ask For a Better Deal
Your phone service provider might be willing to reduce your bill, if you call them and ask. Telecommunications is a competitive industry and your phone company wants you as a customer. In particular if your Internet, cable and phone services are bundled, your provider might be willing to negotiate with you. You might have to endure a sales pitch from a customer service representative that will emphasize the benefits of those extras you don't need, but you have the power to say no. One conversation can result in a cheaper plan.