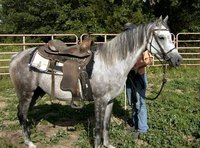 To ride an Arabian is like getting behind the wheel of an Audi sports convertible compared to a sedan, station wagon, or truck. Arabians are highly sensitive to all your body language, incredibly agile and tough, and have endurance no other breed can match. Climbing onto the back of this "little" horse can be an amazing and thrilled experience.
Make sure that your saddle fits. The typical Arabian back is shorter than other breeds, and a large saddle made for Quarter Horses can pinch or restrict your Arabian's movement. So look for a Western Saddle with a rounded skirt, not a square one. English saddles are usually excellent, just make sure that his withers will not be pinched, as most Arabians have low, fat withers - at least in comparison to breeds such as the Thoroughbred.
Make sure your bridle fits as well. The Arabian head is shorter and smaller than most other breeds, so you will need to look for a "cob" sized bridle, or a fully adjustable bridle that you can make certain will adjust to his head. Bits are smaller as well, usually no more than four or five inches wide. A standard Quarter Horse bit will likely be too large.
Once your Arabian is tacked properly, mount up! If your horse is well trained, he will stand like a rock, and you may find him easier to climb onto compared to the taller, wider breeds. The first thing you will notice is that your legs may come down much further on your Arabian friend. This is perfectly okay, and nothing to be ashamed of. The second thing you will notice is how agile and quick your Arabian is under you. This will make him far more of a challenge to ride, as with larger horses you can often sense and feel their movements before they make them. Not in the Arabian! You must use your brain and a keen sense of body language.
Step out and enjoy. The Arabian walk is long, and often quick. This is normal for him. He will not lug along half-asleep. The typical Arabian will step out, ears up, nose quivering, eyes searching and ready for any adventure. He will be very tuned to your hands and your seat, so do not communicate fear or nervousness. Rather, think positive, happy, joyous thoughts, and this energy will communicate itself to your mount. The trot is fast and can be choppier than other breeds. Post if you can. The canter is a wonderful gait - like riding a great rocking horse. This is often the gait of choice for the rider at speed. The gallop will be clean, fast, and breathtaking. To ride an Arabian at the run is to ride the wind.
Never forget the Arabian was bred as a warhorse and a human companion. Unlike many modern breeds, he was not bred to be a working animal or a slave. In the desert, the Arabian was as much a member of the family as he was a hunting mount and warrior. Your Arabian will always be watching his surroundings, and transmitting his feelings to you through his body language. Stay tuned to your horse as you ride him, and you may find that after your ride you are addicted for life.