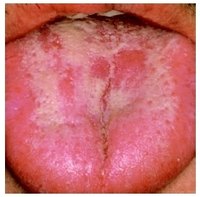 When you look into your mouth or your child's mouth do you see a white coating inside of it? If so, this could be "Thrush." Thrush is caused by a fungus known better as yeast and all though not limited to the mouth, it is the most likely place to start.
Things You'll Need
Take a look inside your mouth or the mouth of the person you believe to have thrush. If you notice that there is a white, creamy substance on the tongue, cheeks and roof of your mouth, then you know it is thrush.
Sore throat or tongue is another way to diagnose thrush in adults and children. With the sore throat usually comes a lack of appetite as well.
Ask if the person has a bad taste in his mouth or his mouth is excessively dry like a cotton ball. This is another symptom of thrush.
If it is a child that you suspect has thrush, take a look inside of her diaper. Most of the time when an infant has thrush, the infant will develop a diaper rash that looks just like the inside of her mouth.
Mothers who are breastfeeding a child that has thrush will more than likely begin to have extremely sore and red nipples. This is cause by the bacteria irritating the nipple which is very sensitive.
If you notice any of these symptoms do not panic. It is easily taken care of and in most cases wiping out the mouth with a clean cloth will begin to cure infection.