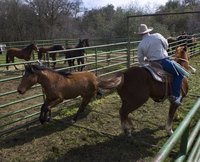 Taming a mustang is an incredibly difficult and challenging task. If you decide to try and do this, get professional help, but this article can give you some tips on how to get started.
Taming a mustang is serious business. Only the most experienced horse handlers should even attempt it, as the mustang is a wild animal that has survived in conditions without human contact. They can, and will, defend themselves. Horses are fight or flight creatures, and if flight is denied them, they will become aggressive and can kill. Remember this when dealing with a mustang.
Gaining the mustang's trust is the most important and most difficult part of taming them. Often you will need to isolate them completely from all other horses and animals. Make sure the pen you have them in is at least 20 feet high and made of solid material. You cannot rely on any fence that is not solid. The horse must not be able to see any gaps, because he will try to go through it. His main instinct is flight, and he will try and escape -- no matter how unrealistic the route may be.
Isolating him will work against his instinct. Horses need their herds. They despise being alone. Spend a good month doing nothing but feeding the horse and talking to it. Try and get it to come closer to you as the days progress, to get its food. Depending on its age and how long it has been wild, it may or may not choose to come close to you. If it is young, it may even allow you to touch it after a long month of feeding and quiet companionship.
Once the horse has relaxed to the point of either letting you be near it, or letting you touch it, you can begin. Chances are you will need to refer to the many methods of "Natural Horsemanship" that are available on disc, online, or in video format. You will also need to enlist the help of a professional trainer, preferably one that has experience with the methods listed above. There will be a lot of effort, a lot of sweat, and probably some minor injuries for all involved, but you will end up with a mustang that has learned to trust and like people.
Having established a firm trust is the most difficult part of taming a mustang. You must never forget that since he has been wild, and even though he trusts you his natural self-preservation will still be the strongest instinct he possesses. This can make him an excellent trail companion as he will look out for his own safety and he will also keep you safe. But you must remember that this same instinct will always cause him to be far more aware of his surroundings than the average horse, and you will always need to treat him with respect.