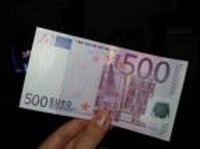 Currently a Euro is worth about $1.57. This has steadily increased over the past five years (from only about $1.20 in 2003), making the Euro a good investment. If you want to invest in Euros, there are several ways to proceed.
Decide how much money you are willing (or able) to invest. This will affect your options, as some investments require a minimum commitment.
Consider purchasing an FIDC insured CD. Usually a minimum investment of $10,000 is necessary. The advantage here is security.
Look into investing abroad. A UK government bond pulls more interest than a comparable US bond, so investing in euros can benefit you there as well.
Invest in European mutual funds that are Euro based. Most major brokerage houses will have these available for you, and you can choose from a wide variety.