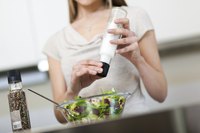 Iodine is a trace element that your thyroid, a butterfly-shaped endocrine gland situated in the lower front of your neck, uses to produce hormones. These all-important thyroid hormones are essential to normal growth and development; they also help regulate metabolism, control body temperature and maintain organ function. Although iodine deficiency is relatively rare in the United States today, certain people have an increased risk of deficiency. Iodine deficiency can be difficult to identify, so if you think your iodine status may be low, talk to your doctor.
Iodine Deficiency
All the symptoms of an iodine deficiency are related to impaired thyroid function, according to the American Thyroid Association. An enlarged thyroid, commonly known as a goiter, is generally the most visible symptom. When your body doesn't get enough iodine for a prolonged time, your thyroid gland can get progressively larger as it tries to maintain hormone production. Although not all goiters are particularly obvious, any size goiters may cause coughing, tightness in your throat or difficulty swallowing. Iodine deficiency can also lead to hypothyroidism, or an underactive thyroid gland. Symptoms of hypothyroidism include dry skin, feeling cold, constipation, low energy, forgetfulness and depression.
Who's at Risk?
Iodine is most concentrated in seawater and the soil of coastal regions, which is why iodine deficiency used to be a common problem in the plains and mountain regions of the United States. With the advent of iodized salt and a nationalized food system, however, chronic or severe iodine deficiency has virtually disappeared from the United States. Certain people are still at risk of mild deficiency, however, including pregnant women and those who live in iodine-deficient regions and don't consume iodized salt. Vegetarians and vegans who don't consume iodized salt, fish or seaweed are also at greater risk of deficiency. In adults, a mild-to-moderate iodine deficiency can cause impaired mental function and reduced productivity.
Intake and Sources
The recommended dietary allowance for iodine is 150 micrograms a day for healthy adults, while pregnant women and nursing mothers require 220 micrograms and 290 micrograms a day, respectively. Iodine is especially important during pregnancy -- children born to severely iodine-deficient mothers are usually mentally retarded, while those born to mildly deficient mothers may have lower intelligence. Iodized salt, fish, shellfish, seaweed, dairy products, eggs and grain products are among the best sources of iodine. One-quarter teaspoon of iodized salt provides about 70 micrograms of iodine, while an 8-ounce glass of cow's milk provides just under 60 micrograms.
Other Considerations
A mild iodine deficiency can be made more severe by a diet rich in goitrogens. These substances, which are naturally present in certain foods, can interfere with your body's ability to absorb or utilize the iodine in your diet. Foods high in goitrogens include cassava, soy products, broccoli, cauliflower and other cruciferous vegetables. According to the National Institutes of Health, being deficient in iron or vitamin A may also inhibit your body's ability to use iodine.
Iodine deficiency can be difficult to diagnose, and many of its symptoms -- including goiters and hypothyroidism -- can also occur when you consume too much iodine. If you have any of these symptoms, consult your physician for a proper diagnosis.