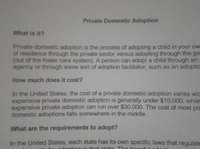 Using headings is an effective way to draw in readers. When a reader sees a page filled with nothing but text, he is likely to decide that he does not have the time or patience to wade through all of the words in order to find what he is looking for. However, when you add effective headings to the same text, your writing suddenly becomes much more accessible to the reader. Effective headings can lead the reader straight to the information he is seeking. Here is how to use effective headings.
Understand why headings are necessary. Look at a page of text with no headings and ask yourself how eager you are to sit down and read that page of text. Then, look at a page of text that contains several headings. Which looks more inviting?
Think about your audience. Most people lead very busy lives and only have a limited amount of time available to do any particular task. If they can choose between reading two pages of writing on the same subject, they are going to choose the one that they can scan and find the answer to their question more quickly.
Chunk your text into logical break points. A break point can be one paragraph or several, but all of the text in each chunk should cover one specific topic. In some cases, even a paragraph can be broken down into more than one chunk.
List a few words to describe what the reader will find in the chunk of text beneath each heading. If you cannot describe the chunk of information in a few words, then you need to chunk your information further.
Write headings from the descriptive words. Each heading should describe what information follows. The headings should be concise and make logical sense to the reader. Here are some good examples of effective headings: Reasons to Adopt From China; How Much Does an Adoption Cost?; Cost of Adopting From China.
Make your headings parallel. If a person scans through the headings of your writing, the headings should be similar in format. For example, if you use a question as a heading, such as "How Much Does an Adoption Cost?", then your other headings should also be questions. If you pulled your headings into an outline, then the outline should be consistent in format.
Bold your headings. By formatting your headings in bold, the reader's eye is drawn to the headings, which makes them more effective.