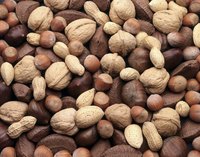 Copper acts as an antioxidant and helps your body produce red blood cells and energy, so it's important to get the recommended 900 micrograms each day. Copper deficiency isn't that common, but certain health conditions put you at higher risk. If you're worried you may have a copper deficiency, speak with your doctor, because only a blood test can give a definitive answer.
Look at Your Diet
Unless you follow a diet that is very low in calories or contains only a few foods, you're probably getting a significant amount of copper through the foods you eat. Copper sources include seafood, beans, nuts and breakfast cereals with added copper. For example, a 3-ounce serving of Alaskan king crab provides about 1,005 micrograms of copper, and a cup of cooked lentils or an ounce of hazelnuts each provide about 500 micrograms. Chocolate also supplies some copper, as do certain fruits and vegetables, including avocados, mushrooms, both sweet and regular potatoes, tomatoes, grapes, bananas and dried fruits. Multivitamins also often contain copper.
Consider Risk Factors
Getting excessive amounts of zinc, which sometimes happens if you take zinc supplements, can interfere with copper absorption. Weight loss surgery, celiac disease, cystic fibrosis and Crohn's disease may also increase your risk for copper deficiency because these conditions can decrease the amount of nutrients you absorb, including copper.
Check for Symptoms
People with copper deficiencies may be more likely to get sick due to low numbers of white blood cells. You may also have a low body temperature, anemia, an irregular heartbeat, thyroid problems and a lack of color in your skin if your copper levels are low. Copper deficiency can make you feel weak, fatigued, uncoordinated, depressed, irritable and confused. Some people experience a tingling or loss of feeling in their hands and feet or develop osteoporosis due to copper deficiency.
Don't Go Overboard
Copper toxicity can also be a problem, so don't go overboard taking copper supplements because you think you may be deficient in this mineral. Don't take copper supplements unless your doctor advises you to do so. Don't cook in copper pans that aren't lined, as the copper can leach from the pan into the food you're cooking. Also, if you have copper pipes, use cold tap water for cooking and drinking instead of hot to minimize the amount of copper in your water, recommends the University of Maryland Medical Center.