Whether you want to make your eyelashes LITERALLY longer or if you want to make them LOOK longer, here are a few steps that will make you want to flaunt your lashes!
Things You'll Need
Eye cream, such as TALIKA
RevitaLash
Dye (someone to professionally dye them)
Eyelash extensions
Try TALIKA, a formula that helps condition and enriched your natural eyelashes. With lecithin, chestnut extract and allantoin, this is a miracle in a tiny bottle.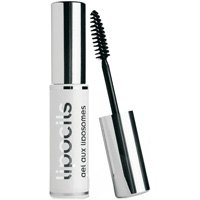 Purchase a mascara and conditioner in one, such as RevitaLash. This is a remarkable formula that will dramatically enhance the length, thickness and fullness of your natural eyelashes.

If the creams and conditioners (and mascaras) aren't doing the trick, consider dying your eyelashes.
Glue on extensions! This is the final resort, after the creams, conditioners, mascara and bout with dye. If you absolutely must have long lashes, consider extension. They are easy and fast to glue on and are easy to remove.