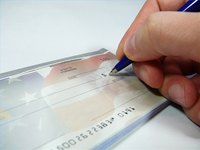 You have your first checking account and now you need to order checks. Should you order checks from the bank where you just opened your account? Almost certainly not unless the bank has offered you a box (or two) of free checks as a premium for your new account. The bank's checks will probably be more expensive than those you can get elsewhere. If your bank offers free checks for life, you are in luck. Otherwise, there are many places you can buy checks and many check styles for the first time check buyer. Here's how to order checks for the first time.
Buy the Sunday newspaper for a couple weeks. Slick coupons and advertisements are inserted in the Sunday papers and almost every week there are advertisements for checks. There usually are especially good bargains for ordering three or more boxes of checks. You can also find advertisements in magazines and on-line.
Compare the various check offers. Be sure to include shipping and handling charges when comparing the prices.
Pick the size and style check you prefer. Personal, one-part checks are the least expensive. Duplicate checks cost more but might be more useful now since most banks no longer routinely return your canceled checks in your monthly statement.
Choose the background design you prefer. Keep in mind that the design you pick will present an image to those with whom you do business. Do you want a cutesy check? On the other hand, that may be just the image you wish to convey. The checks are equally valid and no one is going to refuse payment because they don't happen to like the cartoon character on your check, so go with your preference. Make a note of the product code.
Call the toll-free number on the advertisement. Have your bank routing number and account number ready (these numbers are on the Consumer Deposit Account Agreement or other paper work you received when you opened your account). If you have any doubt, ask your bank teller or account representative. The address you have imprinted on your check will have to match the address of the account and the mailing address for the order. You will also need a credit or debit card, and the product code to place your order by phone. Regular delivery will take two to three weeks. Expedited delivery is available but will cost more.