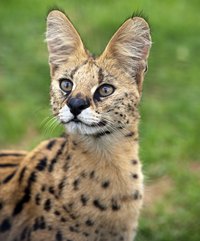 The Savannah cat is a large, lean, spotted domestic cat breed reminiscent of a wild cat. That's because the Savannah is bred as a cross between the wild African Serval and a domestic cat. The Savannah is a relatively new breed, and breeders who specialize in quality Savannahs are quite rare.
Servals and Savannah Cats
The first Savannah was bred in 1986 by Judee Frank, and it was the result of a wild African serval mating with a domesticated house cat. That first kitten was named Savannah after the African plain, and the breed that resulted was later dubbed the same. The hybrid mixture piqued the interest of Exotic Cat Network founder Patrick Kelly, who sought out breeder Joyce Sroufe to help him develop the breed and write the standard for the International Cat Association. The Savannah was accepted by TICA as a registered breed in 2001 and for Championship status in 2012.
Generation Classifications
Savannah cats are classified with numbers according to how much of each breed they contain. A first-generation hybrid cross, such as that first kitten -- one that's a direct cross between a serval and a domestic cat -- is designated F1 and contains about 53 percent serval genetics. A second-generation cat is called F2 and contains about 29 percent serval genetic material. Third generation F3 Savannahs are about 16 percent serval, and it goes on from there. An SBT, or Stud Book Traditional, is at least 4 generations removed from the wild serval but is guaranteed to have had only Savannah ancestry for at least three generations.
Physical Characteristics
Savannahs resemble small wild cats due to their light fur with bold markings, including dark spots or marble patterns. Their coats can be tan, gold or brown with black or brown spots; silver with grey or black spots; or black with black spots. Very sleek, with long legs and long necks, Savannahs appear graceful, exotic and regal. Tails are thick, and short to medium in length. Their large, tall ears sit on the tops of their heads, and their eyes are hooded, with flat lines across the top. While Savannahs look exceptionally big and heavy due to their proportions, they're actually about the same size as average large domestic cats and weigh less than other cats their size.
Personality Traits
Savannahs are affectionate, outgoing, assertive and curious -- they're active and fun-loving cats who require interaction and thrive on adventure. They're also loyal, bonding strongly with both their human families and other feline companions. Some Savannahs enjoy splashing in water; most of them love playing fetch and other games, and they can be trained to wear a harness and walk on a leash. In those respects, they're more akin to dogs than domestic cats. But they're definitely cats -- among the most unique cats you can find.