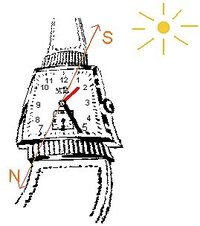 If you are ever lost in the woods or out in a field while hiking or camping, and you need to find which way is North, but you do not have a compass - you can do it using an analog (with hands) watch. Here is how to do it!
Things You'll Need
If you have a digital watch, you deserve to get lost! Just kidding, see if you have a compass function built in, of just jump down to Step 4.
If you have an analog wrist watch, you can use the hands on the watch to help you find north. Hold your watch up in front of you, and let the short hand, red on the figure, which indicates hours point at the sun.

While holding the watch steady with the hour hand pointing at the sun, cut the angle between the hour hand (red arrow in the image) and 12 o'clock in two. That new mid point line you created is South. The opposite direction is North. The reason you need to cut the angle between the hour hand and 12 o'clock in two, is because the clock takes two rotations (am/pm) while the sun takes one around the earth.
Many people wear digital watches these days instead of analog watches. If you do, draw an analog watch face on a piece of paper, and then mark the hour hand on it using the time as shown on your digital watch. Use the piece of paper now to help you find North - using Steps 2-3. The rest of the method is identical using the paper.
This method can be used even when it is pretty foggy. Although you may not be able to see the sun, it may still cast a shadow. If you take up a straw or a tiny stick, and you may see a shadow. You just have to remember that the shadow points the opposite way from the sun, but the rest of it is quite similar as above.