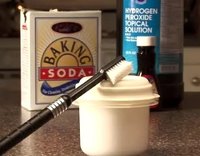 Making your own toothpaste has numerous benefits. Perhaps, you do not like the idea of the amount of waste toothpaste containers and production creates. Or you might not like how toothpastes at the stores taste. Whatever the reason, you can make your own toothpaste. Making your own toothpaste will save you money and you will have the benefit of knowing the exact ingredients that go into your own toothpaste. Your toothpaste will not have any artificial ingredients that color it and flavor it. You will be able to avoid sweeteners, artificial ingredients and preservatives simply by making your own toothpaste. Read on to learn how to make toothpaste.
Things You'll Need
Baking soda
Glycerine
Salt
Hydrogen peroxide
Oil if your choice (peppermint, mint, cloves or cinnamon)
Bowl to mix ingredients in
Spoon
Gather your ingredients. A good place to make your toothpaste is in your kitchen on your dining room table. Wear old clothes and cover your dining table with newspaper or a cover to protect it from the ingredients and any spills. Get out all of your ingredients and place them on the table along with your mixing bowl and spoon.
Mix ingredients. Begin with the baking soda and salt. You will need three parts baking soda and one part of salt. Mix lightly. You will need 3 tsp. of glycerin for every one fourth cup of your baking soda and salt mixture. If you have used three cups of baking soda and one cup of salt you will need to add 16 tsp. of glycerin. It is time to make it look like toothpaste by adding water or hydrogen peroxide. You choose how much, because you can have any thickness you want! Add just a little water or hydrogen peroxide at a time until you are satisfied with the consistency. Add the oil of your choice, too. This could be peppermint, clove, mint or cinnamon.
Put your toothpaste away. Using the cup mixture as described above you will need a four to five cup container for your new homemade toothpaste. You should be able to find something at your local pharmacy as a container. Make sure you use something that has never been used for anything else before. You will need a container that will not allow the toothpaste to dry out.