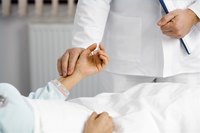 How to Take a Person's Vital Signs. If you're training to be a medical professional, one of the first things you'll learn is how to take a person's vital signs. Vital signs include finding your patient's temperature, pulse, breathing and blood pressure. These four signs can indicate the health of your patient and let you know what needs to be done (if anything) to help your patient.
Things You'll Need
Thermometer
Blood pressure cuff
Stethoscope
Take your patient's temperature. You can take a temperature orally (mouth), rectally (rectum) or auxiliary (armpit). You can use the same type of thermometer for oral or auxiliary temperatures but must use a rectal thermometer to take a rectal temperature. Auxiliary temperatures are about 1 degree lower than oral, whereas rectal temperatures are 1 degree higher than oral temperatures.
Find your patient's pulse. Take the pulse in the wrist or the neck. Use your index and middle fingers to find the pulse. Count the number of beats during 60 seconds. Record the pulses in even numbers. If you get an odd number, go up to the next even number. Note any abnormalities or if the pulse isn't steady.
Count your patient's breaths as you take their pulse. Use the same 60 seconds you used when you took your patient's pulse. Try not to let your patient know you're counting their breaths since people tend to change their breathing pattern when observed.
Get your patient's blood pressure by using a blood pressure cuff. You can take blood pressure on the upper arm or on the thigh. Wrap the cuff around the arm and make sure it won't slip. Find your patient's pulse with a stethoscope. You'll want the pulse on the inside of the elbow below the blood pressure cuff. Inflate the cuff and listen to the pulse. Stop inflating the cuff when you stop hearing the patient's pulse. Slowly deflate the cuff and note the number when you hear the patient's pulse again. This is the systolic reading. Continue to deflate the cuff until the sound of the pulse changes to a muffled sound. Note the reading on the gauge for the diastolic reading.