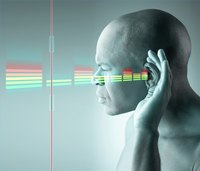 How to Heighten the Sense of Hearing. When you heighten your senses, you can experience things in a much different way than you're accustomed to and sharpen your mind at the same time. With a heightened sense of hearing, you have the ability to hear things more clearly and at further distances. The following can help heighten your sense of hearing.
Relax your muscles. When you smile, the muscles found in your ears relax and you'll hear things much better. If you're frowning, you'll find that you hear less clearly.
Spend time in silence. Many people desensitize their ears by always surrounding themselves with noise. Prevent this from occurring by spending at least an hour or more a day in a completely quiet place.
Pay close attention when a person speaks. Listen for changes in the person's tone of voice, inflection or volume. You may need to close your eyes while listening to the person's speech.
Listen to different types of music. For example, during a classical music piece, you should attempt to identify the instruments that play during different movements.
Go outside at night. Night listening can heighten your sense of hearing. You'll focus your hearing sense better due to your sight limitations. Take a walk and listen to the different nighttime creatures.