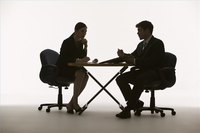 How to Set Up a Royalty Agreement With a Manufacturer. If you have a great idea about an enhancement to an existing product, rather than having to develop and manufacture the product yourself, you can sell it in a royalty arrangement to the manufacturer. Your product will make their product more useful or enhance it in some way, so this is a winning situation for both parties.
Discuss your product design with an attorney and have her write up a legal document about your product with a clear description. Have your signature and date witnessed by a notary. It is important to have an outside witness to your product.
Try to get the manufacturer to sign a non-compete and a non-disclosure document before presenting your idea. About 50 percent of manufacturers will agree to sign this type of document. If not, go ahead with the proposal anyway.
Introduce your product to the manufacturer to see if they would be interested in producing your product or perhaps enhancing their original product.
Secure a patent with the help of the company who manufactured the original product and set up a royalty arrangement paid to you for each unit sold.
Negotiate the terms and a fair amount of money for selling your product ideas to the manufacturer. This is very important. They will typically make a lump sum cash payment offer or a royalty offer, which would usually be the best choice.
Ask your lawyer to draw up the papers for signatures once you have a deal and move forward with the process.