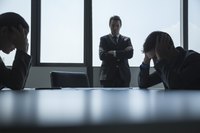 Managing people in a job environment is always an interesting challenge. A supervisor or owner must be able to handle many different types of personalities and keep the boss or customers happy. One of the specifically trying issues is attempting to handle talented employees who sulk and whine.
Schedule a meeting to conduct a personal conversation with the talented but sulking employee. The longer you let the situation fester, the more potential problems could arise. This employee could start to annoy others and affect their work quality, or other employees could develop the same attitude if they are near this negative attitude for too long.
Prepare notes prior to meeting with the whining employee. Be sure to write down how you feel about the employee's attitude and specific examples of when this employee was whining or sulking. If you can't recall a specific situation, ask another employee to give you an example.
Conduct the personal meeting. Hold the meeting in your office and not in a large meeting room, which is not conducive to privacy. Make sure to hold all of your calls and turn off the cell phone or pager.
Separate the behavior from the employee during the meeting. When meeting with the worker, make it clear that you value the employee but do not condone the behavior. Let the worker know that some things have to change.
Listen intently to what the sulking and whining person has to say, because that worker may have some valid points. Sometimes these employees have valid concerns but because of the methods they use to deliver the concerns, people will not listen to them. Try to ignore the delivery, but listen to the content.
Agree on a course of action. Try to finish the meeting with some resolution or compromise that can make both parties happy.
Follow up on the situation after the meeting is over. Do not assume that because you had an agreement at the conclusion of the individual employee conference that the situation is over. Ask the employee and his or her co-workers how everything is going.