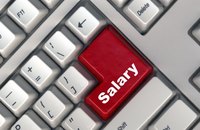 How to Research Job Salaries. Before interviewing for a position or submitting your salary requirements, it is good practice to do a little research on the current pay rate for this position. The rate of pay will vary according to experience and the area or location of the job, and there are a few different ways in which you can get this information.
Check the classified ads. Look at jobs in the same field with similar task and responsibilities. Many times these ads will include a starting salary range.
Compare apples to apples. If you currently work for a non-profit organization, look at other non-profit organizations for a salary comparison. For-profit companies can pay as much as double depending on the industry and the position.
Download a free salary guide booklet; this will give you an idea of what the position is paying. These guides show the starting and ending salary for your position and the percentage of increase you can expect in the next year or two. You want to be sure you fall within those guidelines.
Look online at The Wall Street Journal and America's Career Infonet.com. These sites provide additional information based on specific criteria, such as the degree of responsibility, experience, size of company and the location (see Resources below).
Search online sites like Monster.com or a local job bank to obtain information about available positions (see Resources below). Check the ad for any information available regarding salary.