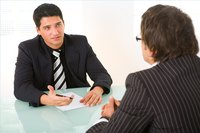 How to Deal With Business Partners With Different Visions. Running a business takes lots of work, careful planning and goal-setting. If you are in a business partnership, there may be times when the business goals and dreams of one partner collide with those of another. You may need to change or modify part of the vision.
Draw up a "partnership accord" document that states what steps must be taken when your business runs into tumultuous times. The best of friends and partners may change over time. Other changes may affect your business partnership, too, such as economic crunches, family changes or loss of interest in reaching goals. Every business must make changes as it grows. Deal with business partners with different visions by establishing in writing how disagreements may be handled.
Write down in your legal documents which partner has the controlling interest in your business. Equal partnerships rarely work. Divide the partnership between two people by giving one partner 49 percent interest and the other 51 percent interest. Of course, the partner with 51 percent has controlling interest and makes final decisions when visions about where the business is going and how things must be handled differ. Handle partnerships with more than 2 people by dividing responsibilities between departments in your company, if applicable. When visions differ, assign a partner to his own department and let him run that sector, while another partner runs hers.
Establish the vision in the beginning of the partnership, then re-define the vision as you go along. Deal with business partners with different visions by sitting down together and doing some "bottom-line" thinking. Partners must know what the business is really going after. Projects, your mission or the purpose of your organization must be agreed on. If you won't agree on a major bottom-line focus, you may not succeed in partnership.
Call in a mediator as a last resort when you deal with business partners with different visions. A mediator helps each person involved see where thinking may need to change. For example, a mission statement that's too idealistic may conflict with necessary profits.