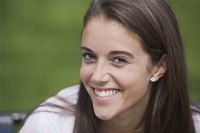 How to Market to College Students. You have a product that's perfect for the young adult marketing block. And, you know it would sell very well if you could figure out how to reach out to that segment of the population. Marketing to college students might seem tough, but it doesn't have to be. Read on for some insight on marketing to college students.
Come up with a catch phrase for your product. Find something that appeals to college students. You might want to choose something funny, clever or that uses some current slang.
Add an easily distinguishable logo and some art to your advertisements to catch young adult eyes. Something shocking, clever or attention-grabbing is the best way to go.
Start advertising in the student newspaper. Put a small ad on several pages with something short and catchy in it. It's not necessary but it's helpful if it's in the same place on each page.
Pass out fliers with a small discount coupon to the fraternities and sororities. Pay a few college students to pass out fliers at the doors in the student union or in other public areas with high traffic.
Advertise on websites with high traffic from college students. Look at the current statistics for those websites on the eMarketer website and choose a few of the top ones in the list.
Offer discounts to people with valid student ID cards. Mention discounts in your print and web advertisements.