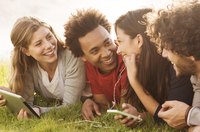 Teens are often inundated with ads from websites, television, magazines and phone apps. To make your advertising campaign stand out, you must fully understand what speaks to your target audience. Everything from the length of the ad to the format to where the ad is placed can have profound impact on how it resonates with the teen viewer or reader. Spending time around teens can give you insight into what matters to them, what sites they frequent and what their interests are, which can help you craft an effective campaign.
Use Platforms They Access
Choosing the correct platform for the ad is critical to making sure it is seen by your target teen audience. The Huffington Post suggests using free music platforms -- such as Pandora, YouTube and Spotify -- to place an ad. Music is an integral part of the typical teenager's life and since many teens have limited access to money, using free platforms is advisable. Social media sites, apps and games are also popular with teenagers and could provide highly visible ad space for this segment of the market.
Build a Trustworthy Reputation
Parents are often ultimately in control as gatekeepers of what their teens watch, read and buy. When marketing to teens, the Huffington Post recommends building a company reputation as trustworthy and respectable so parents don't limit access. A brand with questionable content and a poor reputation can make parents leery of buying things for their teen, even if your ads capture the teen's attention.
Disguise the Commercial
The Association for Supervision and Curriculum Development website describes a study by a University of Missouri-Columbia professor that evaluated a teen's ability to distinguish an ad from a documentary or public service announcement. The results were overwhelming that most teens could not tell the difference with certain ads -- for example, Pepsi's "It's Like This" ad campaign from the 1990s, an early version of reality advertising. For an effective advertising campaign, presenting the information with a documentary tone can have a strong impact on teens and cause the ad to both resonate and be memorable.
Shorten the Message
In a world where teens communicate in 140 characters or less or through visual mediums such as Instagram and Snapchat, short messages rule. The Huffington Post recommends using concise ads with snappy messages to maintain the teen's attention. Teen consumers can always investigate further if their attention is piqued, so the goal of the ad must be to capture attention as quickly as possible and leave the nitty-gritty details for later.