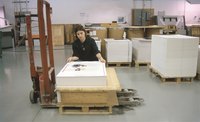 How to Run a Small Book Publishing Company. If you are thinking of starting and running a small book publishing company, then you will have to plan things out properly. You will need tools and strategies to get started in your own business and you will have to start with a business plan. Running a small book publishing company can prove to be highly profitable. Read on to learn how to run a small book publishing company.
Decide whether you want to have your book publishing company at home or if you want to rent an office space. Having your business at home can helpful as it can save you money. However, renting an office space can give your business a sense of legitimacy, especially if you plan to have business clients over to visit.
Build your business plan. Start with the audience you want to reach and move on to marketing tactics. You will have to be very thorough. Even if you are working for yourself, it is smart to have a business plan.
Buy the equipment you need after you have set up your space or rented a place. You will need photocopiers, more than one laptop and a printer. Consider also getting an additional phone line, Internet access, software programs and office furniture.
Begin to advertise your services to the public. Advertise online and tell people that you are looking for new writers and book publications. You can also choose a company name and list it in the local phone book.
Hire some writers to create the manuscripts. Once you get writers interested in working with you, make sure you have a legal contract set up for each project. Decide if you want to pay your writers a flat fee or if you want pay them royalties.
Proofread and edit the writers' manuscripts, layout and design the text, and design the front and back covers using publishing software. You can do the work yourself or hire a book editor and/or graphic designer.
Make sure you have contracts with wholesalers and distributors to sell your books. Keep an eye on your accounts. If you need to, hire an accountant to do your paper work and keep an eye on your accounts.