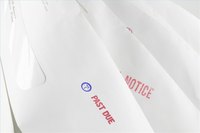 How to Structure a Collection Letter. You want to assure that customers pay their bills when they are due or just after but you need a good collection letter for those times when payment is late. Create a letter that is structured to get you the payment. Use these tips to structure a collection letter that gets customers to act.
Devise a collection letter that you can use again and again or use a template. You want a letter with a solid structure that you can personalize by changing a few lines. Using a template will help you write your collection letters quickly.
Use accurate account information including the customer's name. You don't want to send a form letter that may be ignored. Attach your letter to the account information or include two pages; the first page is the letter and the second page is a copy of the original bill.
Put the date at the top of the letter. Include the account number and the date the original payment was due. Also, include the customer's name and address.
State clearly that payment is due. Write the letter in layperson's language so that the reader will understand what is expected.
Describe clearly what will happen next if you do not receive payment shortly. Make sure to include the date of the first bill, the current date and the date when you expect the payment.
Include the action you will take if the reader does not pay now. Make sure your words are clear so there can be no misunderstanding.
Sign the letter with your name, signature and title.