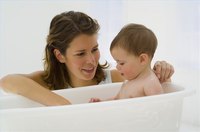 How to Cool Fever in the Bathtub. When children get a fever, it can be scary for parents. After hearing about children who have seizures due to their body being overheated, parents take every precaution to reduce their children's fever. While using a Tylenol or Motrin is helpful, it sometimes is not enough. By giving the child a bath, the fever may be reduced even more and may help your child feel relaxed.
Give your child some Motrin or fever reducer before you actually put her in the bath to cool her fever. You want to gradually get your child's fever down. It is not healthy to take your child's body heat from hot to cold.
Make the bath water just about lukewarm for your child. If the water is too hot, your child's fever could rise even more. And if the water is too cold, the child's body could go into shock or if your child is shivering, it could raise the fever.
Apply a lukewarm facecloth on your child's forehead in the bath and afterwards as well. This will help your child's body heat maintain the correct temperature
Pour a nice glass of water for your child to drink in the bathtub. Your child's body needs to stay hydrated to cool the fever. When your child has a fever, his body is using the all of the liquids much quicker even though he is just lying in bed.
Replenish your child's body with some water to help cool the fever in the bathtub. Also encourage your child to continue drinking fluids after the bath.