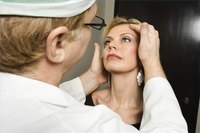 How to Treat Syringoma. Syringoma is a painless condition where small bumps are produced around the eyes and upper portion of the cheek. Caused by over productive sweat glands, syringomas affect people of every race but women are generally more prone. Learn how to treat syringoma to restore your complexion.
Know that syringomas usually form after puberty and are believed to be linked to genetics. People with Down Syndrome are more likely to experience a syringoma breakout in life.
Find a dermatologist in your area who has experience with syringoma treatment options. The dermatologist should explain the methods he uses to reduce syringomas and answer any questions you may have about the procedures. Expect a thorough exam of your skin and questions about your general health.
Treatment of syringoma varies depending on the extent of the breakout and the type of skin of the patient. There are two basic methods used that offer minimal scarring when the syringomas are removed. A laser that uses CO2 is a minimally invasive procedure that requires local anesthetic, but the chance for permanent scarring exists. Electrocautery is a more precise method used to treat syringoma. Lidocaine is administered to the area prior to the treatment. Electrocautery needles are then inserted into the syringomas to burn the tumors.
Expect minimal swelling and discomfort after an electrocautery treatment to reduce syringomas. Small scabs may form over the syringomas but heal relatively quickly. Treatments to reduce syringoma flare-ups usually require multiple visits to the dermatologist to see a vast improvement in your complexion.