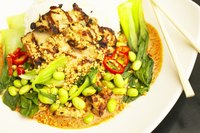 How to Create a Liver Cancer Diet. You want to eat food that will help you stay healthy and fight liver cancer. You must avoid food that might feed the cancer and make you sicker. Use these tips to create a liver cancer diet that will help you get better.
Consume enough calories. Loss of appetite is a symptom of liver cancer. You may experience nausea and abdominal pain so you won't want to eat, but you must eat to stay healthy.
Drink enough fluids. Your body is made mainly of liquid so it's important to keep your fluids up so your body functions properly. You may also get a dry mouth from chemotherapy, so fluids will help you feel better in many ways.
Ensure that you get enough protein, vitamins and minerals to maintain your health. Eat foods like nuts, beans, lentils, fish and meat.
Add flavor to your food so it doesn't taste so bland. Chemotherapy and radiation can alter your taste buds. You can add seasoning, salt and marinades to meat to make it taste better. Add sauce or soy sauce to vegetable dishes and add vinegar or salad dressings to salads.
Put healthy natural ingredients into your food to make it taste better like garlic, green peppers and onion. Add crunch and extra flavor to your dishes with nuts and seeds.
Prepare food less sweet by adding lemon or lime juice. Add salt if it tastes bland but don't use too much.
Enjoy sports drinks like Gatorade or PowerAde to keep your mineral and phosphate levels up. Drink Ensure to get enough vitamins.
Eat plenty of fresh fruit and raw vegetables to get healthy. These natural foods have plenty of vitamins.