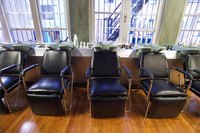 How to Buy Hair Salon Equipment. If you're planning to open a hair salon, your biggest investment will be equipment. Outfitting a salon can be expensive, but it's necessary to pull in the customers. Plan ahead. Research the equipment, and get the best buys out there. You can find what you need without spending the big bucks. Read on to learn how to buy hair salon equipment.
Determine what type of salon you want to own. A high end hair salon will have an atmosphere where customers feel indulged and pampered. You'll need to have the products and services that portray a luxurious atmosphere. The equipment will have to be attractive and look expensive, as well as be functional. A budget hair salon will only need the basic equipment.
Talk to other hair salon owners to get recommendations for equipment. They can steer you to the sales reps who are most helpful and dependable.
Research equipment by reading hair salon trade magazines and browsing show rooms. If you have the opportunity to go to a trade show, you'll be able to see lots of different equipment pieces in action. You may also be able to get in on some trade show deals.
Plan to buy the basics first, such as chairs, washbasins, hair dryers, mirrors and supply carts. Purchase more when you have a good cash flow. But remember that you will need to offer high end equipment from the start if you want to charge expensive prices.
Give serious consideration to buying used hair salon equipment. This may actually turn out to be your best option. Other salon owners who are upgrading are usually agreeable to selling their equipment at incredible prices.