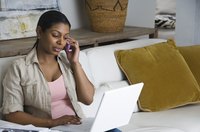 By law, every individual is entitled to a free credit report from each of the three credit-reporting bureaus every 12 months. You may order these free reports from a central source by phone or online. If you need to view your credit report more often, or if you would like one that includes your credit score, you may order directly from Experian, Equifax and TransUnion and pay the associated fees. You may place your order by phone or use other available options.
Annual Credit Report
Call 877-322-8228 to order your free credit report from all three credit bureaus from a central source. When you call, provide your full name, date of birth, Social Security number, current address and telephone number. The agent might ask questions based on information in your report to verify your identity, such as your mortgage payments or your previous addresses. You could also order the reports online at the Annual Credit Report website and by mail when you write to Annual Credit Report Request Service, P.O. Box 105281, Atlanta, Georgia 30348-5281.
Ordering From Experian
Experian offers several credit report options. These include membership in its Experian Credit Tracker Program, which allows you to check and monitor your credit report and score for a monthly membership fee of $19.95 (you may try it for the first seven days for $1); credit reports and scores from the three credit bureaus for $39.95; an Experian credit report and score for $14.95 and an Experian report without the score for up to $11.95. Call 888-397-3742 to place an order. To order online, click "Contact Us" on the home page and select "Obtaining My Experian Credit Report" from the following page.
Ordering From Equifax
You can order your Equifax credit report and credit score for $15.95 or get the complete report, which includes credit reports and scores from the three bureaus for $39.95. Call Equifax's customer service department at 800-685-1111 to order one of these options by phone. To order online, click "View All Products" on the "Personal Solutions" tab and select the option that is best for you.
Ordering From TransUnion
TransUnion offers a free credit score and a $1 credit report when you sign up for a seven-day trial membership of its credit monitoring program. The service costs $17.95 per month after the trial period. You may register for the service on the phone by calling 800-888-4213. You may also register online on TransUnion's website or by writing to TransUnion LLC, 2 Baldwin Place, P.O. Box 1000, Chester, Pennsylvania 19022.