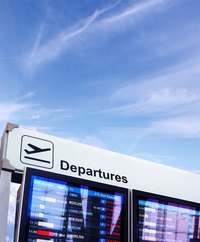 Traveling around the world is everybody's dream, but most people seem to push that dream away because they believe they can't afford it. The truth is that there are many opportunities to help you travel around for free if you know where to look and who to talk to.
Find a job as an ESL (English as a Second Language) teacher. Language schools all around the world hire native speakers on a regular basis to teach both school children and adults. You will be required to stay at your chosen destination for at least six months, although this has the added benefit of allowing you to explore surrounding areas.
Join press trips. You don't need to have a degree in journalism in order to write stories for local papers and magazines. Many freelance writers habitually join press trips and receive free tickets and accommodations in exchange for attending presentations and writing a particular story.
Become a courier. Most courier companies hire people on a freelance basis, so you don't need to give up your day job or attach yourself to this type of job permanently in order to benefit from it. As a courier, your responsibilities including flying to a specific destination to deliver something (often paperwork or valuable items), in exchange for which you get a free airline ticket.
Join a Hospitality Club. These organizations, run by private citizens around the world, focus on offering travelers a way to save money by helping each other without the expectancy of a monetary reward. Most hospitality clubs are set up online, where members (membership is free) can create a profile saying what they're willing to offer to visitors: a free room, a tour of the area, or a free home-cooked meal.
Use a credit card that offers mileage rewards. Make sure the credit card has a low percentage and try to pay it in full every month. Since each dollar you spend will result in miles, use the credit card to pay for everyday purchases rather than taking out cash from the ATM.