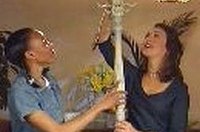 You're sick of looking at the giant heap of coats in your doorway and are searching for a cheap, but efficient way to keep your coats in order. Search no further! This article will guide you step-by-step on how to construct a coat rack which will hold a good amount of coats, yet take up minimal space.
Things You'll Need
Post
24" piece of wood (1)
8" piece of wood (2)
Corbels (4)
Finial
Hammer
Screwdriver
Wood glue
Nails
Screws
Hooks (2)
Paint
Paintbrush
Gather/purchase the materials you will need for this project. You can use either a brand new or old post for the coat rack.
Paint the post. After it is dry, you can choose to buff or sand it to add a worn look.
Form the base of the coat rack by using a 24" piece of wood and 2 8" piece. Place the 2 smaller pieces on each side of the larger piece so it will form a "plus sign" shape. Sand the pieces and glue together with wood glue. Paint the base to match the post.
Paint the corbels. After the pieces are completely dry, attach the corbels with nails to the post. Then, attach the base to the corbels.
Nail the base to the post in the center-most point.
Move the post upright and attach a hook (using screws) on each side of the post.
Glue a finial on the top of the post.
Place your coats on the rack and enjoy!